Super-Value for Small Businesses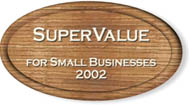 One of the key objectives of CDMR is to be able to serve small businesses that have a real need for our Document Management System (DMS) solution but are constrained by a limited budget. Document controllers from these smaller businesses realize the value of implementing a proper DMS but many good systems available in the market today can cost up to a few hundred thousand dollars and are much too expensive for them. If your business falls into this category, then help is on the way.
CDMR is offering small businesses the chance to use DocControl at a specially packaged price. The promotion includes the following:
· Attractive payment schemes by installments
· Reduced client-access license fees
· Smart packaging of modules
· Distributor prices on selected hardware
· Special service & maintenance programs
The aim is to make all the great features and services of the DocControl system affordable to all small businesses. For more information on "DocControl Super-Value for Small Businesses", contact us today.