DocControl DRA Workflow
As computer systems have become more tightly integrated into business processes, many organizations look to technology to automate routine, or even non-routine, business processes. The DocControl Document Review & Approval (DRA) Workflow System is an optional tool for automating a document approval process via a set of definable, repeatable steps that are taken in a specific sequence. This could be as simple as reviewing an internally generated report or as complex as approving a multi-file document over many approval levels.
DocControl DRA Workflow automatically tracks workflow activity such as when a document is approved or rejected, and sends the appropriate notification when a particular process is overdue. Alerts are invoked when a workflow element times out and isnít acted upon in time. When properly defined and implemented, DocControl DRA Workflow can help improve productivity and efficiency by automating routine business processes, leaving time for knowledge workers to focus on more complex problems.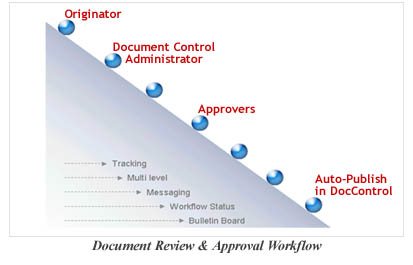 INITIATING THE WORKFLOW PROCESS.
Any DocControl user with the relevant rights can initiate a workflow process by completing an electronic DRA Form that is required to track the document. Documents may be new, revisions or created from an unlimited number of self-customizable templates. A user-friendly wizard then enables the document controller to complete the Workflow Profiler that defines and saves any number of pre-determined approval routes.
DYNAMIC ROUTING & DOCUMENT STRUCTURE.
The DRA Workflow System delivers unparalleled flexibility Ė a key to the success of any workflow process. Approval routes can be changed on-the-fly to add or remove approvers, and allow for manual intervention if required. In addition, associated documents may be added or removed at any stage of the workflow.
Leveraging Microsoft Exchange & Outlook EMAIL technology.
DRA Workflow can capture approval or rejection notices from external approvers via Microsoft Outlook. Its smart messaging system for notification & reminders utilizes both network messaging and email messaging from any MAPI compliant email system.
automatic publishing.
At the end of the workflow process, the document controller can discard superfluous files and associate only pertinent documents for publishing. The final set of documents will be automatically profiled and stored in DocControl for secure access and full revision control.
Customizable Approval Routes : Easily customize approval paths for any workflow profile.

Multiple Approving Levels : Set as many levels of approvers as required to complete a workflow.

Dynamic Routing Structure : Serial or parallel routing paths that can be modified on-the-fly.

Dynamic Document Structure : Change primary and associated documents as they flow through different levels.

Check-in / Check-out Paradigm : Revisions or editions to documents go through a check-in / check-out process to maintain document integrity.

Network & Email Messaging : Choose messaging preferences for LAN or email notifications, reminders & alerts.

MS Outlook / Exchange Integration : For messaging and to incorporate external approvers in the DRA Workflow loop.

Flexible Document Formats : Work with all major electronic formats including scanned documents, Adobe PDF, MS Office files, CAD drawings, HTML web pages, etc.

Preset Document Templates : Create and save your own document templates based on any existing file.

Auto-Indexing : At the end of a workflow process, documents are auto-indexed for publishing.

Workflow Reports & Logs : Critical workflow data is captured automatically and displayed via ageing reports, error logs, audit trails and more.

Versioning / Revision Control : Revised documents are versioned and the number of versions can be pre-set by the DCA.

Document Adequacy Review : Pre-set review periods for selected documents.

Manual Approvals & Rejections : Reconcile the documents received from manual external approvers with your workflow in progress.