DocControl Search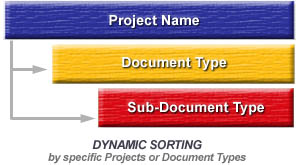 DocControl Search gives users the ability to retrieve any document from within the Document Management System quickly and efficiently. DocControl Search features include:
Comprehensive field search using any of the compulsory or optional profile fields, sub-categories, Administrator-controlled fields and self-customized fields.

Keyword (with Boolean) and Content search.

Specific date or period search.

Combination searches.

Concise search within seconds from your desktop.

Simultaneous searching with other users.

View & work on your search results instantly - distribute, print, copy, email & edit documents – all from one interface.
With DocControl DMS, users can easily sieve through a mountain of documents by using the Power Sort feature that dynamically sorts documents by their primary fields. Power Sort actively filters your search results as you change your search criteria. Imagine sorting thousands of project documents electronically by making just a few selections from your pick-lists.